2015 Winter School on Frontier and Interdisciplinary Sciences for the Oversea Students is an innovative training project co-sponsored by International College of UCAS (IC-UCAS), CAS-TWAS President's Fellowship Program. The Winter School is a breakthrough program after spring school and summer school. The Winter School will focus on pertinence, crossover of subjects and scientific – educational integration. University of Chinese Academy of Sciences is promoting the scientific – educational integration and university-institute integration mode, building an extraordinary scientific – educational integration center with institutes of CAS. The IC-UCAS aims to make fully use of the advantages of scientific- educational resource of CAS, accelerate the internationalization of CAS and UCAS, and create an international academic atmosphere and processing the education of international students. The guiding principle of IC-UCAS is "unified enrollment, education management and degree conferment; faculty-institute's fusion on leadership, faculty, management and cultivating system". With the concept of "Internationalization, Openness, Comprehensiveness and Perceptiveness", International College will strive to become a unique and world renewed college.

2015 Winter School will be co-held by the South China Sea Institute of Oceanology (SCSIO), The Guangzhou Institutes of Biomedicine and Health (GIBH) and South China Botanical Garden (SCBG) from January 5th to 10th at SCSIO. Most honored professors from institutes of CAS will present students the cutting-edge theories and research methods concerning Earth Sciences and Life Sciences. Here is the detailed announcement:
1.

The

registration

conditions
International students of UCAS
2.
Registration
1) Registration Time: Registration begins as from today and the deadline is December 15th, 2015.
2) Go to the website http://www.sojump.com/jq/6478946.aspx for online registration
3) Please fill in the attached Application Form to apply for the winter school
4) Print the Application Form and it needs to be approved by your supervisor with his/her signature
5) Submit the signed application form to educational administrative department of your institute (Not IC-UCAS) for approval
3.
Registration
Quota:
80 students
4.
Approval
and

funding
The educational administrative department of institute or college will check the students' application form and decide who can be selected(The number of selected students of each institute will be enslaved to the Registration Quota and the particular situations). All the selected students will be provided with the hospitality package (which includes tuition and fees, the support of hotel room during the centralized study time(Jan 5th to Jan 11th before 12:00 AM)) and round trip train tickets.
5.
Registration
Requirements
Registration Time: January 5th 8:00AM-20:00PM
Registration Address: Home Inn(No.177 Xingang West Road, Haizhu district,Guangzhou) (From Guanzhou East railway station taking subway line 3, transfering line 8 and stop at Lujiang station, Walk out from exit B )
Team-lead teacher:To be determined by the institute or college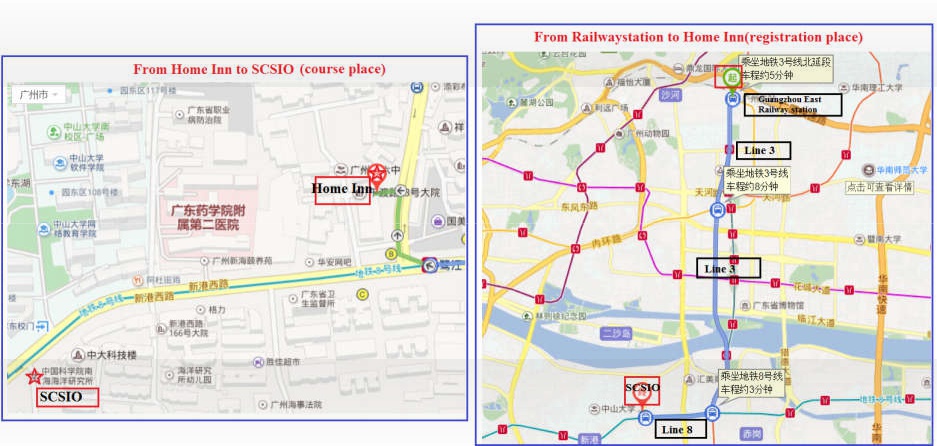 6.

Contact

information
The International College of UCAS Phone Number:(010)82680563 Fax:(010)82680986
Human Resource and Education Department of SCSIO Phone Number:(020)34063746 Fax:(020)84451672