At IEEE CEC 2009 held in Austria, post graduate student Huang Zhenqiu and Ph.D candidate Jiang Wei and their respective supervisors Hu Songlin (Associate Professor) and Liu Zhiyong (Professor) attended the WS-Challenge:Web Services Challenge hosted by IEEE, and ranked the first with full mark in performance.
  WS-Challenge is an international contest in the field of web service research. Each session has witnessed the participation of teams from many world famous universities and research organs, including IBM T. J. Watson Research Center, University of Pennsylvania (U.S.A.), University of California (U.S.A.), HP Labs China, Tsinghua University (China), Fudan University (China), etc. The competition for the Challenge this year was heated as it attracted champion teams of each session and such teams as headed by Seog-Chan Oh, the leading person in automatic service portfolio research.
  2009 saw the 5th session of WS-Challenge and the first-ever participation of ICT.  On the basis of semantic composition, this session introduced for the first time Quality of Service (QoS) into the contest and preset response time and throughput for the service. Teams were required to search for the composition of minimum global response time and maximum global throughput from the magnanimity of service assembly according to the specific input and output conditions. Each team shall participate in the Challenge through submitting thesis and system. Evaluation was made mainly of the accuracy and execution efficiency of Web service discovery and automatic composition results.
  The huge number of service assembly and the complicated partner relationship of the Challenge added to the computing overhead of global Qos optimization greatly, which posed striking technical challenges for strategy balancing between the accuracy of optimal computation and the efficiency of searching. The team from our Institute made a full analysis of the complexity of the issue, and based on this, established the technical thoughts of paralleling compressing search space with optimizing QoS. As a result, a new type search algorithm combining achievable rapid service filter and property/service 2-level Qos optimization was designed, and the thesis and system were submitted. The system enhanced the execution efficiency in an effective way on the basis of ensuring 100% the solution of optimal value. It is the only system solving the optimal value of all the 5 test sets, and its running time in each test is much shorter than the full mark value of 300ms. In the end, the team ranked the first with full mark (15 items in 5 sets in all, full mark of each item being 6). Such a result is seen for the first time throughout the sessions of the WS Challenge.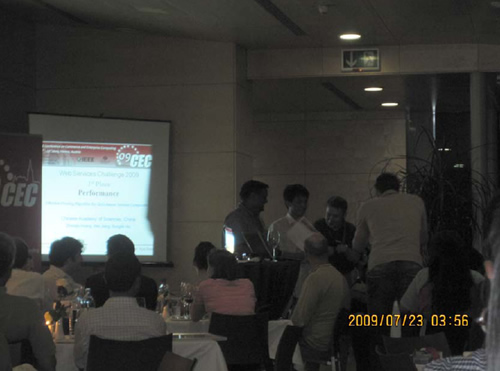 Site of the Prizing Giving Ceremony

Score sheet on the official website of WS Challenge 2009
  For official results, pls. visit: